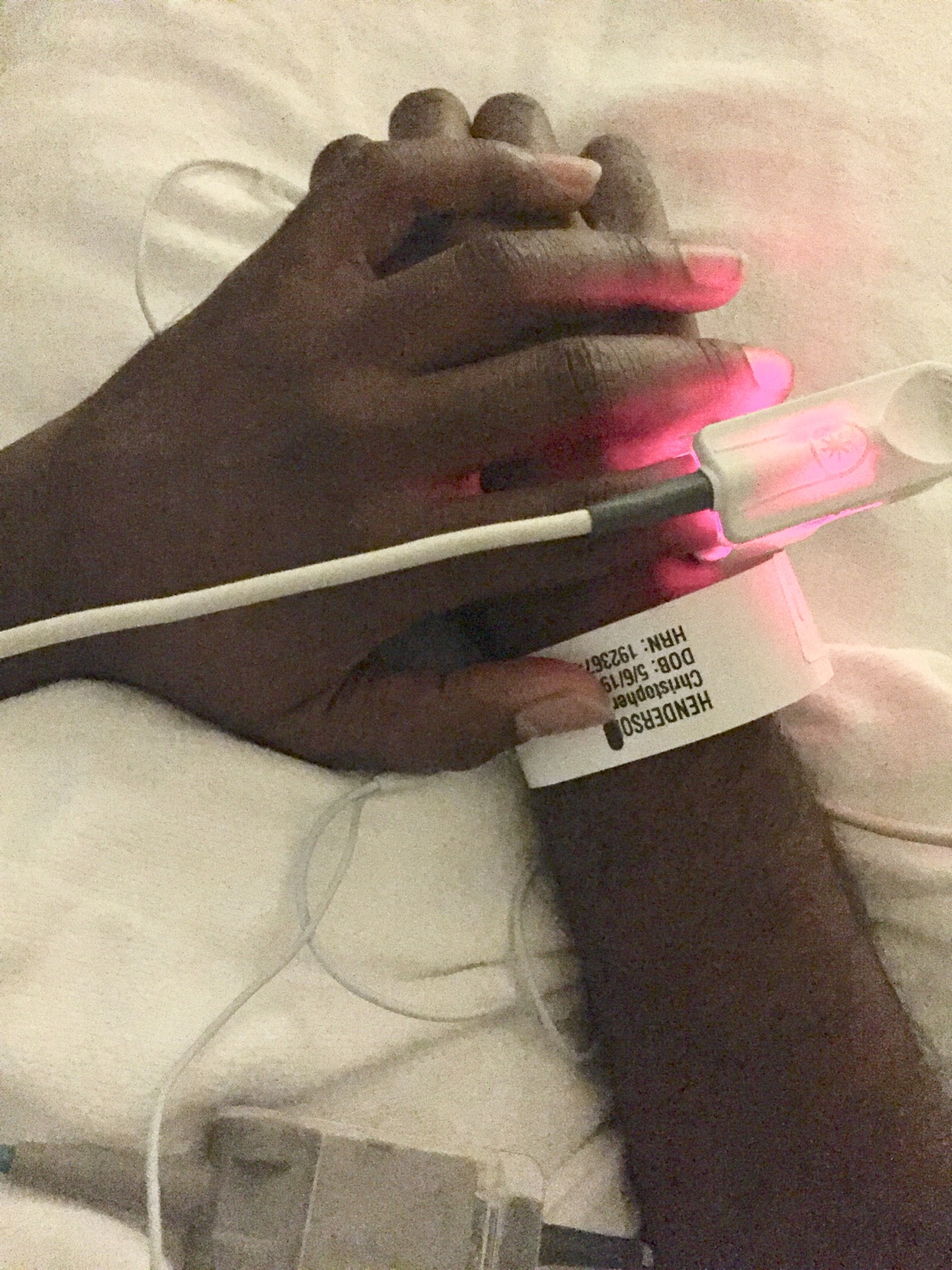 This pic is from early 2016, pretty much the inspiration for my 2017. It was the 2nd night in 2 months of being rushed to the ER, this time though, I was kept overnight for observation b/c nothing conventional was working on the crippling pain. I never posted this because I try to keep them positive, informative or inspirational & I was none of that at the time. I suppose I could've asked for your prayers but I needed my own time to process the prognosis, besides I know my posts often reach beyond just those who'd pray FOR me, so I chose to keep a brave face. 
The diagnosis was Trigeminal Neuralgia, basically a rare debilitating neurological condition that used to be nicknamed "the suicide disease" in its early days & is treatable but not curable(I won't go too deep into its details, look it up if you get a minute). The medication for it (Carbamazepine) was another bum deal in that once it kicks in days later enough to finally stop the pain attacks, I can only stay awake & functional for about 4-4.5 hours at a time before needing to go back to sleep. Even in those woken hours I felt a diminished capacity, like I couldn't complete my thoughts or words as fast as normal...all while the drug was steadily depleting my white blood cell count (its warned possible side effect).   
Those close to me knew about this & even a few extra people were informed based on the fact I had to cancel a lot of work & felt the need to explain myself. Sessions normally last longer than 4 hours so I couldn't work the same or as much, nor could I be physically out there as much, present, networking or shopping my stuff.   
That's one of the hidden reasons behind the songbuilders segments I kept doing here on FB. I didn't have a goal, it was just a way for me to stay engaged, distracted &/or creatively occupied, falling back into the pure hobby & passion of making music. I'd film myself working out an idea, fall asleep, wake up, teach myself to edit, fall asleep again, not aiming for projects or having a plan of profitability... Just taking my shortened hours & diminished capacity and reorganizing my day, diet & travel around these new limitations. I posted these as a way of not appearing to disappear while doing so. 
Your shares turned it into a positive. My inbox lit up not only with your encouragement, but also with opened & re-opened doors, interest, work, opportunities & offers for things I hadn't even thought of before like workshops & seminars based on the educational aspect of the songbuilders episodes.   
2016 ended with one last dose of physical pain. I randomly cracked a tooth just before Christmas, bottom molar, left side, coincidentally the same side as my neuralgia pain, so I thought. It was the best time for it to happen because I was a day away from making my annual Christmas trip to Chicago to visit my brother's family & luckily my brother & his wife happen to be dentists. Apparently from their reaction to it, it wasn't a pretty or normal prognosis either as it supposedly had split all the way to the root. My brother took x rays & while I'm not able to quote his dental jargon, he basically explained to me that a year prior, he had noticed a hairline fracture in that tooth but it was too small for him to think to investigate further or X-ray it then but as he looks at the X-ray now, he sees the fracture extended to the root & ran right along perfectly aligned to the main nerve that ran along my jaw. Was it possible that the fracture in the root of that molar was the physical obstruction or pressure to the nerve network that eventually triggered the Trigeminal Neuralgia? The tooth fragments were pulled & just to test that possibility, I stopped taking the meds. That was the end of December, I haven't touched them since, I have no pain & my health and energy are back & better. I have a new appreciation for waking hours, a new appreciation for basic comfort, a new appreciation for a functioning body & how to make use of it, a sharp mind & how not to waste it, a renewed appreciation for music and it's power, a new appreciation for imagination & creativity in times of adversity, and a new appreciation for accepting losses, counting whichever blessings you have left and making the most of them with the attitude of gratitude.   
I woke up today confident living in my purpose and truly overwhelmed at witnessing God & my body finding a way to seemingly reverse and cure my irreversible & incurable neurological condition of 2016. I'm rambling longer than I meant to but If I didn't already say it, i appreciate & am grateful for all of you as well, my friends, my family, my associates & my network. Through your engagement I was able to do so much more with so much less. Thank you & sorry for making you read so much.